Actor and director, Antoine Moultaka, was with his wife Latifeh Moultaka, at the origin of the revival of the Lebanese theater in Arabic language in the sixties.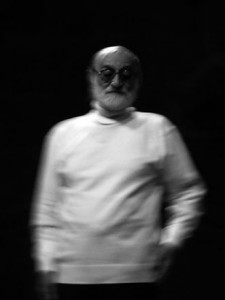 Born in 1933 in Wadi Chahrour (Lebanon), Antoine Moultaka has a degree in philosophy.
At the beginning of the sixties he created with his wife Latifeh Moultaka and some intellectuals, the "Circle of the Lebanese Theater" (1960). He then creates, still with his wife, the Achrafiyeh theater (1965), then the experimental theater (1971) and the Maroun Naccache theater (1983), as many places of research on the Lebanese theatrical language, on the training of the actor , the scenic place: Italian theater, Elisabethain theater, Bilateral, Central, Panoramic … He translates, plays, or stages in classical Arabic the European repertoire: Sophocles, Shakespeare, Sartre, Dostoevsky, Lorca, Durrenmatt, Camus … These include "Oedipus Rex," "Macbeth," "Richard III," "Blood Wedding," "Caligula," "The Misunderstanding," "The Visit of the Old Lady," "The Great Scholar Mr. Wu."
At the same time, in 1960, he founded the annual outdoor festival in Rachana with the singer Michel Basbous and the group of the "Circle of the Lebanese Theater", where he staged among others "Macbeth" (1960), "Crime and Punishment" (1961), "The Broken Jug" (1965), "The Seven Against Thebes" (1965, presented by Jack Lang), "The Comedy of Errors" (directed by Berj Fazlian). He takes part in the project of the "Regroupement du théâtre contemporain" which brings together a large number of directors including Jalal Khoury, Latifeh Moultaka, Berj Fazlian and Michel Ghorayeb. He participated in several theater festivals, including Nancy in 1965, Volubilis, Damascus, Algiers, etc.
In 1965 he created the Department of Dramatic Art at the Institute of Fine Arts (Lebanese University), where he was the first director. He has trained and influenced a whole generation of young Lebanese actors.