C Barré, an instrumental ensemble created and directed by Sébastien Boin, is above all the result of a meeting between 12 musicians. This singular group, currently associated with gmem-CNCM-marseille (national center of musical creation), is composed of rich, passionate and deeply invested personalities in the creation and the diffusion of the contemporary repertoire. He is since 2012 the companion of the Chaillol Festival.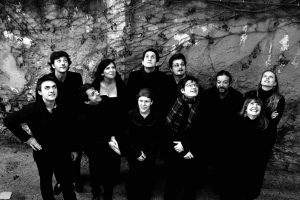 The predominance of plucked strings, as well as instruments whose use was only exceptional a few years ago, is undoubtedly linked to the personal career of Sébastien Boin. On its own, it gives the ensemble a distinct identity within today's musical landscape. The training spirit already so characteristic (clarinet, saxophone, trumpet, percussion, accordion, mandolin, guitar, harp, cymbalum, keyboards, cello, those recent years l'Ensemble C Barré has notably performed at the Île de France Festival, Radio France, the Festival de Marseille, the Festival Les Musiques, the Festival de Chaillol, the International Screen Music Festival, the Grand Théâtre de Provence, at the Chartreuse de Villeneuve-lez-Avignon, at La Criée Theater and at Silo (Maseille), with choreographers and dance companies such as Johanne Saunier, Michel Kelemenis, Nederlands Dans Theater and Bill T. Jones / Arnie Zane Dance Company New York.
contrabass), is further enriched by the dynamism and thirst for experimentation of its musicians. Thus it is sometimes accompanied by other instruments practiced in parallel (such as chromatic or third-toned zithers, bouzouki, electric guitar, baroque instruments, folks, traditional or invented for the occasion …) and others each musician's own resources such as the practice of improvisation or other scholarly or popular musical styles.
Located in Marseille, which is both the first port and the oldest city in France, it is easy to notice the regular attachment of C Barré to composers from the Mediterranean basin. Given its specificities, the ensemble also devotes a large part of its time to musical creation. This is often achieved through isolated commissions, but also by the retention of some composers, the "Composers at the Bar", over a period of up to 3 to 4 years.
These privileged relationships deepen various aspects of creation, particularly as regards form and genre (ensemble music, chamber opera, concertos, chamber music, solos, etc.); the integration of other musical means (electroacoustics, improvisation, chiptune …); or the frequent participation of other arts such as dance, digital arts, video, fine arts, theater, circus, poetry or literature.
Driven by a desire to bring contemporary repertoire to the attention of an ever wider audience, C Barré enthusiastically undertakes many sensitization activities. In this sense, the group devotes a part of its work to the training of young audiences, essential to the development of contemporary music, especially in collaboration with the CFMI of Aix en Provence, but also with the help of dumistes, speakers or musicians of the ensemble. On this occasion C Barré offers educational interventions, as well as music creation workshops in elementary schools, colleges, conservatories, or public places such as municipal libraries.