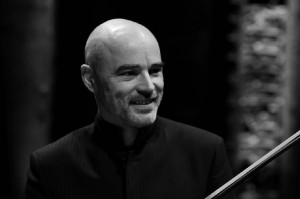 The violist Christophe Desjardins has consistently and passionately engaged in two complementary fields: the creation – he is a highly sought-after interpreter of international composers – and the distribution of the repertoire of his instrument to the wider public.
He has created a number of solo works, including works by Berio, Boulez, Boesmans, Jarrell, Fedele, Nunes, Manoury, Pesson, Levinas, Harvey, Stroppa, Pintscher, Widmann, Cresta, Sebastiani and Rihm.
After studying viola at the CNSM in Paris with Serge Collot and Jean Dupouy, and at the Hochschule der Künste in Berlin with Bruno Giuranna, he performed as a soloist with orchestras such as the Concertgebouw Amsterdam, NDR, WDR and SWR. Sinfonieorchester, the Toscanini Foundation Orchestra, the Lyon National Orchestra, the Portuguese Symphony Orchestra and many other ensembles and orchestras in Europe. He collaborates with several vocal ensembles as a soloist: Helsinki Chamber Choir, The Crees of Paris, Soloists Ensemble XXI. First alto solo at the Théâtre de la Monnaie in Brussels, he was then soloist of the Ensemble InterContemporain for two decades.
His discography reflects the singularity of his career. The records he designed and recorded for the Aeon label received the highest awards: "Viola Voice", dedicated to Luciano Berio and Morton Feldman, was awarded a Diapason d'Or, a ffff of Télérama, A Shock of the World of Music and the Record Grand Prix of the Academy Charles Cros. His monograph Emmanuel Nunes and the double CD "Alto / Multiples" have been unanimously acclaimed by critics.
In 2007, Christophe Desjardins created Philippe Manoury's monumental Partita I, for alto and real-time electronics, which uses the technique of gesture capture, opening a new era in the development of mixed music. The work has been the subject of important international tours and its recording for the Kairos label has received a Diapason d'Or. His discography also includes more than thirty records made within the Ensemble Intercontemporain.
Maurizio Pollini calls on him for the cycle of chamber music Pollini Perspectives, hosted in the biggest halls since summer 2011. Besides, he regularly plays with Teodoro Anzellotti, accordionist, Daniel Ciampolini, percussionist, Philippe Cassard and Wilhem Latchoumia, pianists.
To discover and perceive differently the music, he designs multidisciplinary shows mixing music and poetry, dance, video: Once upon a time, viola, Alto / Multiple, Harold and his double, viola songs, Caldo Disio.
Christophe Desjardins plays a viola by Francesco Goffriller, made in Venice around 1730. He was a professor at the Detmold Hochschule and has been teaching since the beginning of 2011 at the Conservatoire National Supérieur de Musique de Lyon.