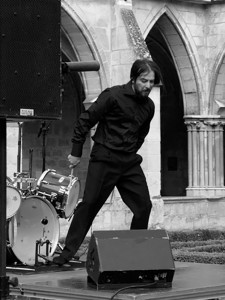 Percussionist, soloist, member of the contemporary orchestral ensemble of Lyon.  He created the piece Polyphem for percussion alone on November 24, 2007 at the Meylan Meylan (Grenoble) as part of the Festival 38e Rugissants and the event "Polyphem" war and creation, designed by the composer Zad Moultaka.

This is the beginning of a fruitful artistic collaboration. In 2008, he created the percussion and soundtrack version of NON, in homage to Samir Kassir at Royaumont and the Other Shore in July 2009 at the Avignon Festival (Chartreuse de Villeneuve-lez-Avignon).
Claudio Bettinelli was born in 1976 in Livorno, a Tuscan port on the Tyrrhenian Sea. His saxophonist father invites his children early to learn music. At six, the young Claudio chooses the "battery". A strong desire to type. Throughout the years, experiences, teachers – notably Giannino Ferrari, timpanist of the Florence orchestra and Jonathan Faralli – he will discover the world of twentieth century percussion, the richness of his instrumentarium, the infinite possibilities of sound.
He moved to Lyon and in 2002 obtained his certificate of graduate studies from the CNSMD (Jean Geoffroy class). His creative approach encourages the jury to award him a special mention "originality of the program" then he receives a special prize "originality of the instruments" at the international percussion competition in Geneva. Very open musically, he likes to live strong and diversified experiences, touching as well the classical music as the contemporary music, the musical theater, the improvisation, the computer-assisted music and all that gives rise to an instrumental research work: diversion of objects, recycling, recovery of everyday life and that involves the body. He collaborates with dancers and actors. His taste for creation and risk makes him appreciated by living composers.
Founder of the "Bubar Trio", percussion trio invited among others to the "Fruits de Mhère" Festivals by Jacques Didonato, "Listening See", "Collinarea" (Italy), Tblissi (Georgia) and IPEW (Croatia), he worked with the center "Tempo reale" founded by Luciano Berio, the National Orchestra of Lyon, the Opéra national de Lyon, the Ensemble Orchestral Contemporain, the ensemble Odyssée, and participated for three years in the Ubs Festival of Verbier (Switzerland).