Poet, essayist, painter, Etel Adnan crossed the 20th century as a pioneer.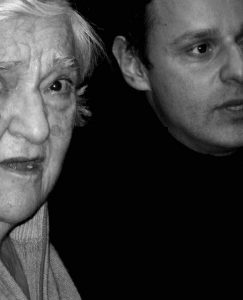 Etel Adnan is a poet, writer and painter. Born in Beirut from a Syrian Muslim father and a Greek and Christian mother. She was part of the first group of students to follow Gabriel Bounoure's classes at the School of Letters in Beirut. She continued her studies of literature and philosophy at the Sorbonne (Paris) and then at the University of California, Berkeley and Harvard. She teaches philosophy in California from 1958 to 1972.
Bilingual author (French and English / American), his literary work is regularly translated into Arabic. Etel Adnan is well known in poetry circles in France and the United States.
Author of a novel on the civil war in Lebanon, "Sitt Marie-Rose", published in a dozen languages, including an edition in Holland in 1980 at NOVIP, which was a bestseller, it touches all literary genres : poetry, novel, essay, epistolary narrative, autobiography.
Many of his poems have been set to music, notably by Gavin Bryars (Adnan Songbook)and Zad Moultaka (Five senses fro one death or Nepsis and L'Apocalypse arabe or Our). She has also worked with Tania Leon, Henry Treadgill, Annea Lockwood and Samir Odeh-Tamini. In 1984, Etel Adnan wrote the French part of The CIVIL WarS by Robert Wilson. She also wrote two plays: Like a Christmas Tree (evoking the Gulf War) and The Actress, , which was played in March 1999 in Paris. She lives in California, Paris and Lebanon.
But she is also a painter, ceramist, tapestry designer and has made about forty solo exhibitions around the world. Most recently, in 2007, she participated in group exhibitions at the British Museum, the Museum of Oriental Art in Moscow, and the Hermitage of St. Petersburg.
His last collaboration with the Lebanese composer Zad Moultaka has just been premiered at the Concertgebouw in Amsterdam on December 1st, 2007. Our, resumes in large extracts his poem in English The Arabic Apocalypse.