One of the most beautiful voices of the Middle East, Fadia Tomb el-Hage comes from a family of musicians and painters. She masters all the repertoires of western medieval music, Syriac singing and Arabic folk music. His sensitivity and vocal plasticity have led him to work for several years in the direction of contemporary repertoire.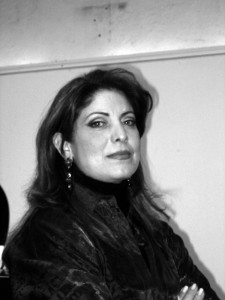 Fadia Tomb el-Hage Fadia Tomb el-Hage comes from a family of musicians and painters. In 1979, she became famous for her interpretations of the works of the Rahbani brothers. She is passionate about classical music and she takes lessons in opera singing at the National Conservatory of Beirut (1981-1984). She is also studying at the Lebanese University. After obtaining a degree in psychology, she went to study in Germany at Richard Strauss Konservatorium (RSK) where she studied classical song for five years with Professor Felix Rolke (1985-1990). She then specialized for two years in oratorio techniques.
For her first performance as a soloist, she performs six Lieder by composer Alfred von Beckerath (recorded in Stuttgart in 1988).
She then meets Vladimir Ivanoff, the Bulgarian-born German composer and founder of the Sarband ensemble, a reference in medieval music. Her knowledge of oriental and western songs allows Fadia to become the soloist of the ensemble. They travel the world at festivals. In 1998, they perform at the Baalbeck Festival. She began working with composers from her country. She performs in particular "Anashid", composed by Zad Moultaka, who inaugurated the twenty-third edition of the International Festival of Baalbeck in 2000.
Fadia Tomb El-Hage multiplies collaborations with international ensembles in order to revitalize the musical legacy stemming from both Western repertoire and Oriental repertoire. Since 2002, she travels the world and interprets contemporary music, ancient music, Syriac music and the most beautiful pieces of the Lebanese folk repertoire