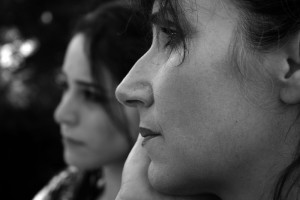 Following her meeting with Cathy Berberian, Françoise Kubler explores many facets of the contemporary repertoire: Berg, Webern, Schoenberg, Berio, Boulez, and becomes the privileged performer of composers such as F.-B. Mâche, Pascal Dusapin, James Dillon, Philippe Manoury, George Aperghis, Marc Monnet, Ivan Fedele … In 1981, she founded with Armand Angster (clarinetist) the group specialized in the creation of the interpretation of contemporary works.
In 1981, she founded with Armand Angster (clarinetist) the set Accroche Note, with which she recorded many monographic discs at Universal, Naïve, The Fingerprint, Una Corda, Blue Label, FMP Berlin …
She performs as a soloist in France and abroad under the leadership of prestigious conductors, such as David Robertson, Pierre Boulez, Peter Eötvös … Other directed ensembles call upon his voice: Ensemble Ictus, Ensemble InterContemporain , Ars Nova … She also likes to interpret the most classic pages of the romantic repertoire and French music …
Her dedication to improvised music accompanied her throughout her career and enriched her thanks to ingenious partners: M.-P. Drouet, Armand Angster, J.-D. Hege, or Irene Schweitzer with whom she founded a singing and piano duet in 2002.