In this home; the place of tender encounters,
I carry, today, a message of fidelity to Janine, my mother…..
Nadine BEGDACHE, le 16 juin 1993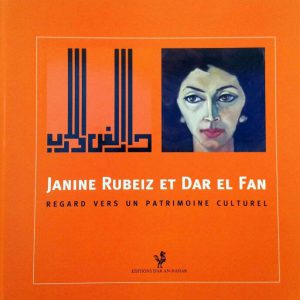 Anchored by a strong commitment to Modern and Contemporary Lebanese art, Galerie Janine Rubeiz and its precursor Dar El Fan have played a major role, since 1967, in Beirut's cultural and artistic scene. For the past fifty years, the gallery has been directed by its founder Janine Rubeiz and consequently by her daughter Nadine Begdache.
Destroyed in 1976 by the war, Dar El Fan continued its program of exhibitions, film screenings, lectures and public events throughout 1990's in Janine's private residence. In 1993, her daughter took over the program continuing its commitment to exhibiting diverse artistic voices of recognized Lebanese artists living in the country and abroad, as well as hosting shows of important international artists.
In 2010, the gallery moved to its current ground floor location in Raouche.
Since its inception, the gallery has endeavored to confront Lebanese audiences with its program of challenging contemporary international art, consolidating the critical role that Beirut plays in the Middle-East as a cultural melting pot.
At the forefront of galleries in the Middle-East, the gallery continues to present Modern masters and Contemporary emerging artists working in diverse media including painting, photography, sculpture, installation and performance.
The Gallery holds strongly to the belief that cultural development is an integral part of the socio-political maturity of the country as it navigates through shifting political and cultural climate.
The Gallery has premiered many leading international artists.
http://www.galeriejaninerubeiz.com