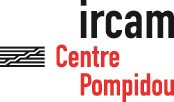 Research Institute and Acoustic Coordination / Music
The Research and Acoustic Coordination / Music Institute is today one of the largest public research centers in the world dedicated to music creation and scientific research. Unique place where artistic prospective and scientific and technological innovation converge, the institute is directed by Frank Madlener, and brings together more than one hundred and sixty collaborators.
IRCAM is developing its three main themes – creation, research, transmission – during a Parisian season, tours in France and abroad and a new meeting initiated in June 2012, ManiFeste, which combines a international festival and a multidisciplinary academy.
Founded by Pierre Boulez, IRCAM is associated with the Pompidou Center under the supervision of the Ministry of Culture and Communication. The STMS (Sciences and Technologies of Music and Sound), hosted by IRCAM, also benefits from the supervision of the CNRS and the Pierre and Marie Curie University, as well as, within the framework of the MuTant project team, from Inria.
IRCAM teams ("Acoustic and Cognitive Spaces" and "Sound Engineering" teams) accompanied Zad Moultaka in the realization of his project for Nuit blanche. Together, they made a visit and an acoustic measurement mission in the Chauvet cave; they then recorded the voices in IRCAM studios and finalized the writing of electronics.
The imagination of the cave has come to permeate the sound work and the spatialization of the sound.
This step prefigures a longer-term research work leading to a numerical modeling of the cave, allowing to precisely reconstruct the acoustics for future installation projects.