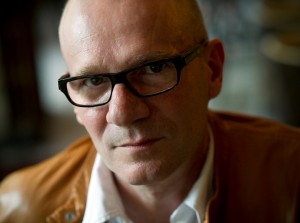 After studying music at the Conservatory of Toulouse, Joel Suhubiette is very quickly fascinated by the choral repertoire. He started singing with Les Arts Florissants then met Philippe Herreweghe and his ensembles – the Royal Chapel and the Collegium Vocale Ghent – with whom he sang for a dozen years. The meeting with this leader is decisive, and allows him to work a vast repertoire of four centuries of vocal music. In 1990, and for eight years, it gives him the role of assistant in his two choirs. In 1997, the choir of chamber the elements, composed of 20 to 40 professional singers, will be named "ensemble of the year" at the Victoires de la Musique Classique 2006. Joël Suhubiette devotes a large part of his activity to him by exploring contemporary creation, the rich repertoire of the twentieth century a cappella, as well as the oratorio.
Always eager to continue the restitution of the ancient repertoire, Joël Suhubiette directs Tours, since 1993 Ensemble Jacques Moderne, consisting of a choir of 16 professional singers and a set of old instruments specialized in music of the sixteenth and seventeenth centuries.
With two sets, Joel Suhubiette has recorded fifteen records for Virgin Classics, Hortus, Caliope, Ligia Digital, Naïve and the Fingerprints.
Although particularly committed to the defense of the a cappella repertoire, Joel Suhubiette also performs oratorios and cantatas with several French orchestras (The Philharmonic Chamber, Les Percussions de Strasbourg, Les Talens Lyriques, Baroque Ensemble of Limoges, Ensemble Ars Nova, Baroque Les Passions orchestra ….). He also directs the other vocal repertoire that is opera, at the Saint-Céré festival, with the company Lyrique Opera Eclaté, at the Opéra de Massy where he directed the French premiere of Kurt Weill's Silbersee and at L Dijon opera, which has invited him annually since 2003 to conduct a cycle of operas by Mozart (Don Giovanni, The Magic Flute, The Marriage of Figaro) and 2007 Marianne's Caprices by Henri Sauguet.
Since 2006, he is artistic director of the Festival of Music of the Lights of the Abbey-School of Sorèze. In 2007, he was named Knight of Arts and Letters.
www.les-elements.com