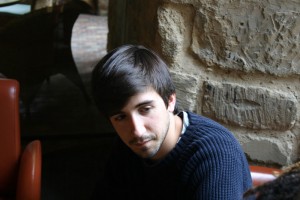 Lambert Colson Lambert Colson begins the music at the Aubervilliers-La Courneuve National Conservatory, in the Class of Early Music under the direction of Françoise Defours. He obtained a First Prize of Soloist and a First Prize of Chamber Music. The meeting with Pedro Memelsdorff is decisive and allows him to specialize in music prior to the sixteenth century.
He took part in many courses (Paul Leenhouts, Kees Boecke, Wim Becu) to continue to immerse himself in the best and integrates productions like Gestes Anciens, contemporary quartet for recorders and magnetic tape, composed by Daniel Teruggi (INRM); the Euridice of Iacopo Peri (University of Saint-Denis); Actéon and Les Arts Florissants by Marc Antoine Charpentier (Christophe Rousset and the European Baroque Academy of Ambronay, 2004); Pastoral for the Nativity of our Lord Jesus Christ by Marc Antoine Charpentier (Martin Gester, The Parliament of Music, DVD recording 2005). A graduate of the Koninklijk Conservatorium Brussel (Royal Conservatory of Brussels), after a specialization course at the Escola Superior of Musica de Catalunya, he studied the cornet repertoire with Marleen Leicher and Bruce Dickey at the Schola Cantorum in Basel.
As a teacher, he worked at the CNR Aubervilliers la Courneuve; he has also been the assistant of the composer Zad Moultaka, at the Royaumont Foundation, as part of a research on the links between musical notation and contemporary improvisation. He is currently preparing a musicology thesis on Motet in the Holy Empire at the end of the 16th century under the direction of Philippe Vendrix at the Center for Higher Studies of the Renaissance (CESR, Tours). He collaborates as a contributor for journals such as La pensée de Midi, edited by Actes Sud.
His recent collaborations include ensembles such as The Parliament of Music (Dir Martin Gester, Scherzi Musicali (Dir Nicolas Achten), Bfive, The Little Consort, Vent Coulisse (Fr), the Qualia Trio, The Palladins (Dir Jerome Correas ), Una stella (Fr), BOX (Be) or L'Echelle (Fr)
Selective discography :
The Pastoral for the Nativity of M.A. Charpentier, The Parliament of Music dir. Martin Gester, DVD, ed.Camera Lucida, Arte France, 2005. A great service of Vespers in the 17th century, Vocal Ensemble of Burgundy, Ensemble Svobodne hudebni bratrstvo. Dir. Etienne Meyer, K617, 2007.Dulcis Amor Iesu, Giovanni Felice Sances, Scherzi Musicali (directed by Nicolas Achten), Ricercar January 2010.The Catena of Adone, Domenico Mazzochi, Scherzi Musicali (directed by Nicolas Achten), Alpha release 2011. The musical chamber of Albert the magnificent, Roland de Lassus, together L'Echelle, Paraty Records, publication 2011.