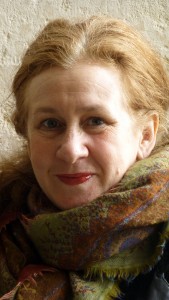 After studying harpsichord with William Christie and Noëlle Spieth at the CNR Lille, she devoted herself to singing. She won a first singing prize unanimously at the CNR Versailles and is admitted to the CNSM of Paris in third cycle (Art lyric, class of Xavier Depraz). At the same time, she studied ancient musical notation and participated in numerous concerts and recordings with the ensembles Organum (1983-2000) and Discantus (1989-1992).
In 1998, she founded with a few friends, passionate like her by the Middle Ages, l'ensemble De Caelis which she ensures the direction.
Titulaire du CA de technique vocale, elle partage ses activités entre concerts et pédagogie du chant. Dans le cadre du programme de recherche et interprétation des musiques médiévales (PRIMM), elle intervient comme formateur à la fondation Royaumont. Depuis 2005, elle donne régulièrement des classes de maître pour la filière médiévale du conservatoire supérieur de musique de Genève.