Lorraine Vaillancourt, Artistic Director and Chief Founder of the NEM – Nouvel Ensemble Moderne »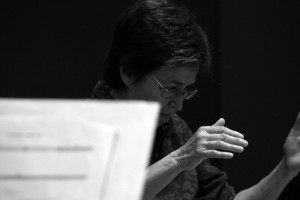 Pianist and conductor, Lorraine Vaillancourt is founder and artistic director of the Nouvel Ensemble Moderne (NEM), in residence at the Faculty of Music of the Université de Montréal since 1989. She has been teaching at this institution since 1971 and directs Contemporary Music Workshop since 1974.
She is regularly invited to conduct various ensembles and orchestras both in Canada and abroad. At home, she has conducted the Montreal Symphony Orchestra, the Orchester symphonique de Québec and the Orchester Métropolitain du Grand Montréal. Abroad, she has directed, among other things, the Ensemble Orchestral Contemporain (Lyon), the Nice Philharmonic, Les Percussions de Strasbourg, Ensemble Sillages (Brest), the Cannes Orchestra, the RAI National Orchestra (Turin), the Gulbenkian Orchestra (Lisbon) …
Lorraine Vaillancourt is a founding member, with the composers José Evangelista, John Rea and Claude Vivier, of the Montréal concert company Les Événements du Neuf (1978 to 1989). In 1990, it also created the 20th-century North American music journal CIRCUIT. President of the Conseil québécois de la musique (CQM) from 1998 to 2001, she then sat on the Board of Directors of the Quebec Council for Arts and Letters (CALQ) until 2006. She is also a member of the Royal Society of Quebec. Canada.