Roland Hayrabedian created the Ensemble Musicatreize in Marseille in 1987 to meet the most diverse instrumental and vocal needs.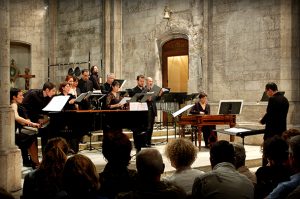 Since then, this singular tool in the French musical landscape has traveled through the ages and the aesthetics, connecting the past and the most immediate present, intersecting works that have become classics and compositions that are resolutely contemporary.
Musicatreize adapts to the needs of the score, circulates in the solo or grand choir, a cappella or accompanied by instrumental formations, and thus passes from the concert stage to the opera stage, from chamber music to theater. musical. Agitator and esthete, Roland Hayrabedian could not place his ensemble anywhere except under the sign of creation. This is how Musicatreize has so far made about fifty orders, some of which fall within thematic cycles: "Music, year 13", "Temptations", "Miniatures", and from 2006: " The 7 tales of Musicatreize ".
Musicatreize often sails "offshore", performing in the most prestigious venues and festivals, traversing Europe from North to South, Asia, Africa and Brazil. The Ensemble also has the concern of inscribing musical works in the long term; his discography is hailed by musical critics and crowned with many distinctions. The richness of this repertoire requires a demand for quality and professionalism that is now heard and recognized around the world. In February 2007, Musicatreize receives the Victory of Classical Music – category Ensemble of the Year.