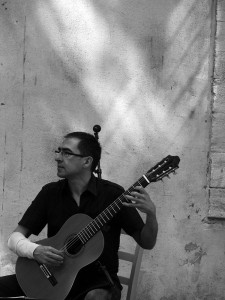 guitar, conductor A daring repertory dancer, as at home in ancient works as in the rich literature of the 20th and 21st centuries, or in the traditional Argentine music of North West, his homeland, Pablo Márquez is one of the most sensitive and talented performers in the new generation of guitarists.
His musical intelligence and his unparalleled technicality make him a creator sought after by living composers and ensembles such as Ensemble Intercontemporain. His endless thirst for exploring all aspects of musical gesture also leads him to orchestral conducting experiences.
Pablo Márquez  began studying guitar at the age of 10, and three years later gave his first concert with an orchestra in Salta, a city in northwestern Argentina where he grew up and studied. He perfected himself with Jorge Martínez Zárate and Eduardo Fernández, and his years of study came to an end at the age of twenty with the first prizes awarded unanimously at the international Villa-Lobos contests in Rio de Janeiro and Radio France in Paris. The awards he will win in Geneva and Munich will confirm his outstanding artistic flair.
A complete musician, he studies conducting and follows the teaching of the legendary pianist György Sebök, who will profoundly mark his artistic evolution.
He moved to France in 1988. His career flourished in more than 40 countries, where he was acclaimed in the most prestigious venues (Concertgebouw Amsterdam, Teatro Colón Buenos Aires, City of Music in Paris …) , in big festivals (Aix-en-Provence, Avignon, Ultraschall in Berlin, Musica in Strasbourg, San Sebastián …), as well in soloist as in partnership with the Rosamunde Quartett, Dino Saluzzi, Anja Lechner, Mario Caroli, Anne Gastinel, or as a guest of great ensembles and orchestras (Intercontemporain, Musicatreize, Radio France Philharmonic, Bavarian Radio Orchestra …), under the direction of Josep Pons, Susanna Mälkki, Mark Foster, Pavel Baleff or Roland Hayrabedian .
He is a founding member and artistic director of the AlmaViva ensemble, dedicated to Latin American chamber music.
He is a founding member and artistic director of the AlmaViva ensemble, dedicated to Latin American chamber music.
Resolutely attached to the service of the music of his time, he has created many works and worked in collaboration with Luciano Berio, Mauricio Kagel and György Kurtág. Pierre Boulez invites him, on the occasion of the 70th birthday of Berio, to interpret the Sequenza XI of the Italian composer, work of which he becomes the reference interpreter.
His recordings for ECM New Series, Kairos and Naïve have received numerous awards, including the Charles Cros Academy Record Grand Prix, the Amadeus Award, RTL Classique d'Or, and have been named best CD of early music by the Neue Musik Zeitung in Germany and best classical music CD of the year by Readings in Australia.
Pablo Márquez teaches at the Musik-Akademie Basel. He received the Konex Award in Buenos Aires in recognition of his entire career.