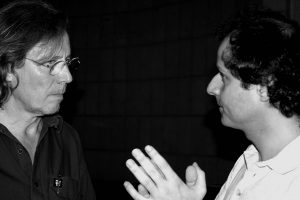 Philippe Nahon was born in 1946 in Paris. After studying art and piano, encouraged by his teachers, Philippe Nahon goes towards conducting. He studied with Louis Fourestier, Jean-Sebastien Bereau, Pierre Dervaux, Roberto Benzi, followed an internship with Herbert Von Karajan.
At twenty-eight, he learns that Marius Constant, who created the Ensemble Ars Nova, is looking for an assistant. Then begins a period of exciting discoveries of contemporary music creation, jazz and improvisation, happenings and experimental theater. Period during which he meets Peter Brook who will definitely engage him on the way of exploring the infinite creative possibilities that can be invented between today's music and theater, dance, circus …
Today, Philippe Nahon is the musical director of Ensemble Ars Nova. There are countless works he has created with the authors he loves. Musical theater, opera, staged concert, militant to bring the repertoire of today in amateur practices, he always strives to offer music and musical gesture as a theatrical act.