Pierre Roullier
Pierre Roullier joined the National Superior Conservatory of Music and Dance in Paris and came out first named, then collected the international (München, Rotterdam, Martigny) and national awards (Menuhin Foundation, Radio France soloist, Young Soloists tribune) before to become solo flute of the Ensemble Orchestral de Paris at its creation. He spent several years in a career as a soloist and chamber musician, which led him to perform in the biggest cinemas around the world (Japan, Germany, Switzerland, Belgium England, Italy, Taiwan, South America). Flutist of the main Parisian music ensembles (Musique vivant, l'Itinéraire, Ars Nova), he initiated a wide repertoire of plays dedicated to him.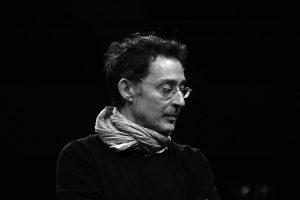 He decides to devote himself to management. Invited by the French opera houses, the Sofia Orchestra or the Osaka Symphony Orchestra, he directs the Pays de la Loire Orchestra, the Ile-de-France National Orchestra, the Orchester de Bordeaux and performs at the Konzerthaus Berlin, the Kunsthalle Bremen, the Wiener Festwochen, the San Martin Theater in Buenos Aires, the Opéra Bastille, the Opéra Comique de Paris, the Théâtre du Châtelet, the Théâtre de Rouen, Radio France, at the Avignon Festival.
His repertoire, besides the major works, contains more than 180 premieres and his recordings cover a vast field, from Johann Sebastian Bach to Tôru Takemitsu and Paul Méfano, from Beethoven to Dusapin, Strasnoy and Bedrossian. They are acclaimed by critics and have received prestigious awards from the French Disk Academy, the Charles Cros Academy and the Lyric Disk Academy.
Pierre Roullier is the director of Ensemble 2e2m since 2005.