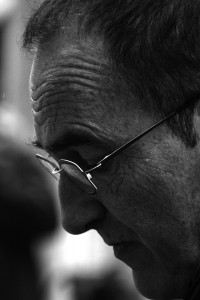 Since the creation of the Contemporary Choir in 1978, then of Musicatreize, an instrumental and vocal ensemble, in 1987, Roland Hayrabedian has never ceased to approach musical creation.
Very quickly, he engages with the composers a dialogue and a connivance that grows over time and strives to create links between the various creations he creates (as "Musiques, year 13" at the thirteenth anniversary of the together in 2000, or "Temptations", new creation cycle 2002-2005).
At the concerts, in France and abroad, he addresses a repertoire that mixes today's musical creation, key works from the 20th century and classical or baroque works. He is particularly noted for his performances and recordings of Maurice Ohana's works and has won numerous recordings.
Although he trained in conducting, he devoted a great deal of his energy to the voice, conducting a cappella or orchestra training.
Guest conductor of the Spoleto Festival Orchestra in Italy, the Capella of Leningrad, the choirs of Radio-France, the Philharmonic Orchestra of the Pays de Loire, the Lorraine Philharmonic Orchestra, the Orchester de Avignon (OLRAP), he collaborates with ensembles such as Strasbourg Percussion, Living Music, Oblique Music, 2e2m, TM + and various foreign ensembles, also working with internationally renowned soloists such as pianists Jay Gottlieb, Marie-Josèphe Jude, Jean -Claude Pennetier, Alain Planes, Georges Pludermacher or Abdel Rahman El Bacha …
Attracted by stage music, musical theater and ballet, he collaborates willingly with directors or choreographers (Ariel Garcia Valdes, Pierre Barrat, Eric Ruf or Angelin Preljocaj …)
Roland Hayrabedian is at the place of the smuggler. This naturally leads him to exercise a pedagogical activity. From 2002 to 2005 he was music director of the Mediterranean Youth Orchestra. He also teaches at CNR Marseille.