Philippe Arrii-Blachette
A violinist, ardent protagonist and propagandist of contemporary music, Philippe Arrii-Blachette created the Sillages chamber music ensemble in 1992. The finesse and intelligence characterize this training based in Brest, specialized in the creation of contemporary repertoire.
The SILLAGES Ensemble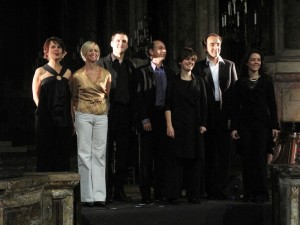 Violinist, producer of television and radio programs, director of national schools of music, Philippe Arrii-Blachette has been in all his activities an ardent protagonist and propagandist of the contemporary music. The creation of the set SILLAGES in 1992 is another illustration, which allows to reconcile creation and diffusion.
The SILLAGES ensemble, established in Brest since 1996, is characterized by very elaborate and balanced concert proposals, always with the aim of bringing the public to a greater knowledge of twentieth-century repertoire and to discover the most recent creations. . Thus were created works of Jean-Yves Bosseur, Kasper Toeplitz, Antoine Herve, Vinko Globokar, Thierry Blondeau, Jean-Louis Agobet, Régis Campo, Bruno Ducol, Gualtiero Dazzi, Francois Paris, Edith Canat de Chizy, Philippe Schoeller or John -Luc Hervé, and works with electronic processing are also regularly scheduled (Adamo, Saariaho, Jodlowski, Dazzi, Lanza, Fedele, etc.).
 Located in the Brittany Region, the SILLAGES ensemble's mission is to expand its range of activities, to arouse and respond to requests from organizers who are anxious not to overlook a whole range of contemporary creation. In addition to this ambition of pedagogical spin-offs, the SILLAGES ensemble has been the bearer of projects at the crossroads of various fields, jazz with the engraving of Anna Livia Plurabelle by André Hodeir, cinema with Jean-Louis Agobet's commission of a work to accompany Jean Grémillon's Lighthouse Keepers live, musical theater staged by Eric Vigner with works by Jacques Rebotier, and dance with choreographer Christian Trouillas and composer Claudy Malherbe. It is obvious that to follow such a policy is only possible thanks to the excellence and the personal commitment of each musician to defend a repertoire of the most demanding and the whole SILLAGES could not exist without the interpreters who accompany it.
Associated with the Quartz, national scene of Brest, the SILLAGES ensemble is subsidized by the Ministry of Culture, DRAC-Bretagne, the City of Brest, and SACEM (cultural division).