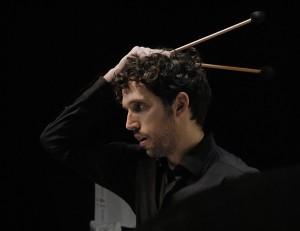 Simone Beneventi, born in Reggio Emilia in 1982, studied percussion with Francesco Repola, Jonathan Faralli, Eric Sammut (CNR of Paris), Christian Dierstein and Marcus Weiss (Hochschule für Musik Basel), old music with Pedro Estevan (ESMUC of Barcelona) and musicology at the Faculty of Arts in Bologna.
Specializing in contemporary repertoire, he has been invited as a soloist by many festivals (Open, Warsaw Autumn, Venice Biennale, Florence Contemporary Sounds, Gaida de Villnius, Huddersfield Contemporary Music Festival, Arsenal of Treviso, the the sound of Basel, the Manca in Nice, Milano Musica…)
He regularly collaborates with the ensemble Algorithm 216 of Barcelona, Contempoartensemble, Diagonal, Icarus, Arsenal, Klangforum Wien, ensemble MDI, Neuevocalsolisten, Prometheus and Zero Directory. He participates in festivals such as Für Musik Köln Acht, Ars Musica in Brussels, Warsaw Autumn, Zagreb Biennial, Harvard University, Lucerne Festival, MiTo, New Consonance, Parco della Musica in Rome, Salzburg Festispiele, Teatro Colon of Buenos Aires, Tohnalle in Zurich, Trajectoires, modern Wien. He has worked and still works with some of the most important living composers such as Battistelli, Billon, Casale, Dufourt, Fedele, Guarnieri, Lachenmann, Maxwell Davies, Nova, Sani, Sciarrino, and Verrando and with soloists and multimedia artists such as Yuval Avital, Mario Caroli, John Malkovich, Matos, Otolab, Andrea Rebaudengo, Alvise Vidolin … He also played with the most important Italian orchestras, such as the Milan Scala, the Maggio Musicale Fiorentino, the Mozart Orchestra, the Comunale di Bologna, the Cagliari Opera, the Teatro Massimo in Palermo, La Fenice in Venice, the Opera in Rome, the Toscanini Philharmonic, the Regionale Toscana Orchestra and Spiramirabilis (chamber orchestra without conductor). His career as a performer is coupled with an intense research activity, the creation of musical editions for percussion (Casa Ricordi in 2012, where he publishes his reconstruction of the new gems of the Shadow of Fausto Romitelli). He also gives numerous lectures and masterclasses (Hochschule für Musik Basel, Ferienkurse für Neue Musik Darmstadt, University of Strasbourg).
He recorded for Aeon, Kairos, Neos, Raitrade, Stradivarius. In 2011, with RepertorioZero received the "Silver Lion" at the Venice Biennale. In 2010 Skyclassica has dedicated a documentary "The Remarkable" Since 2009, he is artistic director of the Percussion Festival of Reggio Emilia.