The Lorraine National Orchestra
In 2002, Jacques Mercier was appointed Music Director. The same year, in recognition of the excellence of its work, the Philharmonie de Lorraine was awarded the "national" label by the Ministry of Culture, 26 years after its foundation. Today, the trust granted to this phalanx, now the National Orchestra of Lorraine, has earned him unique working conditions in France: he not only performs at Arsenal (recognized as one of the best European concert halls ) but also at the Opera-Theater of Metz Métropole.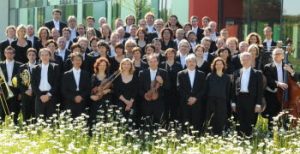 True ambassador of the cultural life of Lorraine, the ONL not only radiates through its region of attachment but also in France and abroad: Spain, Italy, Austria, Great Britain, Switzerland, Germany, Belgium and Luxembourg. The Lorraine National Orchestra maintains close cooperation with the Deutsche Radio Philharmonie Saarbrücken Kaiserslautern and the Musikfestspiele Saar. Since the creation of "Metz en Scènes" in 2009, the ONL has strengthened its links with this establishment by becoming a privileged partner, developing joint projects such as major concerts, but also the reception of composers in residence.
Under the impetus of Jacques Mercier, the Orchester National de Lorraine has a very varied repertoire, from classical works to contemporary creation, with a particular affection for French music.
To complete its policy of opening up the repertoire, the ONL will occasionally participate in projects for Trinitarians and BAM (Music Box), a new music hall in Metz.
Since 2009, the ONL presents shows in its magnificent "Maison de l'Orchestre", which will gradually become a place of innovation for its project of cultural action, while strengthening the orchestral activities of the future of Metz
Lyrical, symphonic and choreographic center of Lorraine. Lyrical, Symphonic and Choreographic Center of Lorraine.