Don't fall / Because who ever fell will fall for good.
September 22 – October 20, 2018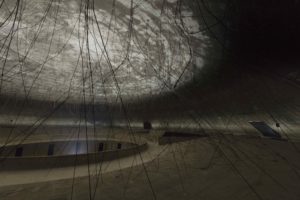 Zad Moultaka in Oscar Niemeyer Dome. Tripoli, Lebanon September 22 – October 23, 2018 At the invitation of BeMa (Beirut Museum of Art), the new work of Zad Moultaka is in dialogue with the dome built by Oscar Niemeyer, within the international fair of Tripoli (1968-1974), a space that has not been completed to this day. The artist proposes to extend 580 iron rods hanging from the concrete ceiling with ropes joining them to the ground. Links between heaven and earth, collapse, labyrinthine space, vision of a world dangerously suspended, also inspired by the Aztec codex of Chimalpopola. According to this mythology, we are currently living under the 5th sun (after the fall of the first 4), which is bound to collapse too. It's up to us to maintain it and to preserve our world as long as possible before its unavoidable disappearance. *"Don't Fall", this myth is calling us to be vigilant, " because whoever fell, will fall for good" since whoever falls will fall forever.