Don't fall / Because who ever fell will fall for good.
22 septembre – 20 octobre 2018
A l'invitation de BeMa (Beirut Museum of Art), la nouvelle œuvre de Zad Moultaka, dialogue avec le dôme construit par Oscar Niemeyer dans le cadre de la foire internationale de Tripoli (1968-1974), espace resté inachevé. 580 tiges de fer pendent du plafond en béton, l'artiste se propose de les prolonger par des cordes reliées au sol. Liens entre ciel et terre, chute, espace labyrinthique, Zad Moultaka invente la vision d'un monde dangereusement en suspend, inspirée aussi par le codex aztèque Chimalpopola. Selon la mythologie vivons actuellement sous le 5 eme soleil (après la chute des 4 premiers). Le nouveau risque de s'effondrer à son tour. À nous de le maintenir et de maintenir notre monde le plus longtemps possible avant son inéluctable disparition. « Don't fall » ce mythe nous rappelle à la vigilance, « because whoever fell will fall for good » car celui qui tombe, tombera pour toujours.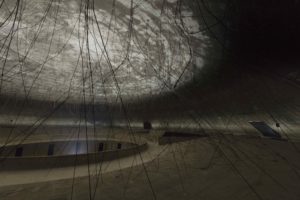 Zad Moultaka in Oscar Niemeyer Dome. Tripoli, Lebanon September 22 – October 23, 2018 At the invitation of BeMa (Beirut Museum of Art), the new work of Zad Moultaka is in dialogue with the dome built by Oscar Niemeyer, within the international fair of Tripoli (1968-1974), a space that has not been completed to this day. The artist proposes to extend 580 iron rods hanging from the concrete ceiling with ropes joining them to the ground. Links between heaven and earth, collapse, labyrinthine space, vision of a world dangerously suspended, also inspired by the Aztec codex of Chimalpopola. According to this mythology, we are currently living under the 5th sun (after the fall of the first 4), which is bound to collapse too. It's up to us to maintain it and to preserve our world as long as possible before its unavoidable disappearance. *"Don't Fall », this myth is calling us to be vigilant,  » because whoever fell, will fall for good » since whoever falls will fall forever.